11.06.09
In September, I announced the launch of our print publication business,
The Lives You Touch Publications.
Today I'm pleased to announce our first poetry chapbook
How to photograph the heart penned by Christine Klocek-Lim.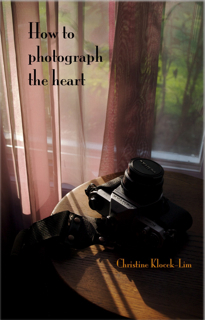 When we discover a poet who touches us, we learn to appreciate the skill with which their poetry is crafted, and we marvel at their ability to transport us into the worlds they create.
Appreciation comes both in our comprehension and in our perception of the world around us. We process words cognitively and are also affected by them aesthetically. When I read poetry, it is the aesthetic hemisphere of my brain that takes the lead. It recognizes the beauty of a poem long before the cognitive comprehends why. This is the case whenever I read the poetry of Christine Klocek-Lim. Over the course of the past few years, I have come to appreciate not only her skill as a poet, but also the care with which she treats the subjects of her poetry. She often writes of personal and sensitive issues, of moments filled with struggle and heartache, and of loss; yet in each instance, regardless of the weight, each subject is treated with respect and reverence, and the strength of each encounter is revealed.
Christine Klocek-Lim was born in the coal-mining region of northeastern Pennsylvania. She now resides in southeastern Pennsylvania with her husband and two sons. She has worked as an editor, online poetry forum administrator, technical writer, copy editor, proofreader, and documentation specialist.
Christine Klocek-Lim received the 2009 Ellen La Forge Memorial Prize in poetry and was a finalist in Nimrod's 2006 Pablo Neruda Prize for Poetry. Her chapbook, The book of small treasures, will be published in December 2009 by Seven Kitchens Press. Her poems have appeared in Nimrod, OCHO, The Pedestal Magazine, Terrain.org, the anthology Riffing on Strings: Creative Writing Inspired by String Theory and elsewhere. She is editor of Autumn Sky Poetry, serves on the Board of Directors for The Externalist—A Journal of Perspectives, and her website is November Sky Poetry.
The chapbook is now available for pre-publication ordering on our website chapbook page.
O.P.W.