06.28.11
Zachary Robert Warnock, son to my dear friend Larina and her husband Mark, and brother to Deanna, Shyla, and Kurtis, left his life with us this past June 18.
I struggled for the words to say to Larina as she told me that morning on the phone that Zachary had died, but I failed miserably. What words can one speak to someone who has lost her child, over the phone, nearly 3,000 miles away? Simply, there are none.
As the days passed, I remembered the many phone calls Larina and I shared over the past four years. I remembered Daniel's and my brief, several-hour meeting with Larina in Philadelphia last summer when we met her in person for the first time. We walked the isles of the Farmer's Market, sipped coffee outside a Starbuck's, and sat together over dinner in her hotel's restaurant, talking about everything and nothing in particular. We talked about Zack, and Deanna, and Shyla, and Kurtis, and Mark, like friends do; we talked about our families. In just about every conversation we've had, Zack was a part of the conversation, if not the main topic. Over the phone, often I would hear Zack's soft giggles in the background, and I would comment to Larina how happy he sounded.
During the past four years, Larina has shared many of her writings, both poetry and prose, about Zachary with me, and we published several of her pieces in Touch: The Journal of Healing: "A Little Perspective," "Hospital Hush," "The Light at the End," "They Said," and "Autumn 2003".
I have many more of the works she sent to me, either for critique or just to share, saved on my computer and on paper.
For many people who didn't know Zack and his family, I can imagine they would have found his life to be one that would be dreaded, a life filled with difficulties, hardship, and turmoil because of his disability, but then they wouldn't have known the Warnocks. I don't know many families who I can say are as dedicated to each other as the Warnocks, though I know they aren't unique, as far a families go who have one or more members with disabilities, but in these families, like the Warnocks, who I do know, they are stronger than most because of that dedication.
Above all that Zack faced, his life was filled with love. He not only received it, but he gave it through his smiles, his twinkling eyes, and his soft giggles. Larina often spoke and wrote about these qualities in him so, though I never met him, I felt as if I knew him. After many days of trying to write something about him for his family and failing, I was directed to his obituary, written by Larina, in their local paper from a link on a website the day before his memorial service. In it, I came across the phrase "shades of joy," and all became clear to me. These three little words are a perfect characterization of Zack's personality, and I began to write what turned into a poem with that title.
It is a simple poem, purposely written in the tone of a child's nursery rhyme to honor the innocence of childhood, though the tempo of the poem is meant to be read much slower with longer pauses at the commas and line breaks for emphasis, with reverence and tenderness. It is one of the few poems I've written in just a few hours that I've ever allowed anyone to see before it has gone through many, many revisions over the course of days or weeks, or longer, and the editor and critic in me sees many places where it would benefit from more work, but it is as it is, and it will remain unchanged from how it was when I sent it to Larina.
I was honored to learn that the minister who presided over Zack's memorial service opened the sharing segment of it with the poem. Larina wrote to tell me that he did the poem great justice and that he seemed to know exactly how I would have read it.
For me, though not mentioned in my little poem, Zack is always present in my mind whenever I see box elder bugs because they remind me of the twinkle in his eyes, though I've only ever seen it in photos, and I will always remain grateful to these little creatures for their gift of a memory. If you read "A Little Perspective," you'll understand why.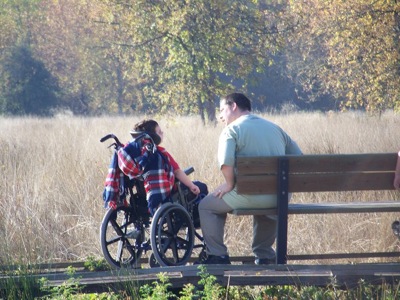 ~
Shades of Joy
for Zachary
by O.P.W. Fredericks
His colors rose October 6th,
in gleeful shades of joy;
he carried them each day he lived,
this gentle, quiet boy.
Among the instruments of care,
surrounding his abode
began the crafted mirth of one
in life, his bliss, it flowed.
And though he fought for every breath
each one he took would count
to bring great strength to those he loved,
they knew he would surmount.
To overcome adversity
encountered by this child,
he bore each pain with spunk and grit
and with it all, he smiled.
In times of strife and heartache too,
his giggles could be heard
from deep within his soul they rose
as lofty as a bird;
and though his time with us was brief
he made each moment last,
and through the many friends he made
his family grew vast.
So even though our memories fade
he gave to us a gift
his sparkling eyes, his laughter too,
he made our spirits lift.
We carry in our hearts each day
this gentle, quiet boy
to hold him close, his giggles, soft,
his gleeful shades of joy.
~
O.P.W. Fredericks