03.15.09
This morning I began to add Amazon.com links to the home page of Touch: The Journal of Healing, but I didn't like the way the page was laid out. It was very crowded, and Daniel told me it wasn't balanced. I added the links for two reasons. The first reason is that most of my literature and poetry books purchased over the past two years have come from Amazon. I found it a lot easier to order them online than it to drive the ten miles to the nearest Barnes & Noble or Borders. I've gotten some great deals from Amazon, and I wanted my visitors to receive the same benefit. The second reason is, I learned late last summer when someone clicks on a link to Amazon and then purchases something, the owner of the site where the link was posted will earn a small percentage of the sale in the way of a "commission" so to speak. Since August of last year, the fee I've received for the link here has come to less than the cost of one month of my website hosting server charge. Now that I'm nearly retired, my income isn't close to what it used to be, and every little bit helps. I thought if the fee covered the cost of hosting my websites, it would be one less expense I would have to find the money for.
Daniel told me there should be a option in the software to enlarge the dimensions of the website and sure enough it was there. I didn't realize the software allowed for changes in the dimensions of a page, and I'd been trying to squeeze everything onto a page that was 700 px wide. The new home page is now 1,000 px wide. I may make it larger, but Daniel told me that 1,000 px is a width that most computer screens can display. After enlarging the page, I experimented with placement of the Amazon links and was able to replace the ones I had with vertical links that fit on the far right side.
Several years ago I asked several poets I know which reference books they had in their library. The scroll bar I added includes many of these titles as well as two poetry books written by poets I've corresponded with from Poets.org, The Red Light Was My Mind, by Gary Charles Wilkens and Throwing Percy from the Cherry Tree by Steve Meador. I also added in a little Ella Fitzgerald and ABBA music to the scroll, an Amazon search tool, and another poetry/poets book widget.
I haven't decided whether I want to have these links on the page to begin with. I'm not sure if I'm comfortable with this idea after seeing what they look like because the links detract from the overall appearance of the page, and they could detract from the whole experience of reading poetry. Also, I don't remember visiting any online poetry journal where these kinds of links are present. Now that the links are off to the side and at the bottom, they aren't as distracting as my first attempts were, so I'll have to think on this a bit.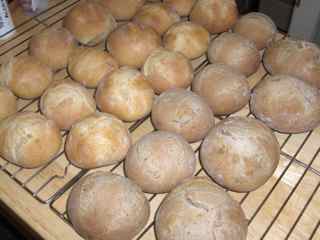 After frying my brain with web design, I decided to do something therapeutic so this afternoon I began to mix a batch of bread dough with the sourdough sponge I set to proof last evening. Daniel had mentioned rolls earlier in the week and I haven't baked rolls in years. Half way through the kneading, I decided to give the rolls a try, just to shake things up a little. In the photo above, the rolls on the right are Italian-Honey-Walnut Whole Wheat Sourdough and on the left are Italian-Honey Whole Wheat Sourdough.
Here's the recipe:
Italian Honey Whole Wheat Rolls
Ingredients:
1/2 c. sourdough starter
1/2 c. warm water
1 c. whole wheat flour
Mix above in glass bowl, cover with plastic wrap leaving a little space for gas to vent and place in warm spot over night.
Combine above with:
1 tsp. granular yeast – let sit 15 minutes.
Combine:
1/2 cup EV olive oil
2 large eggs
1/2 c. honey
1 tblsp. barley malt syrup
Scramble.
Add:
1 tsp. salt
1 c. warm water
1 c. whole wheat flour
1 c. unbleached all purpose or bread flour
Combine in electric mixer bowl using dough hook or mix with hands in a large ceramic mixing bowl. Divide dough in half and reserve 1/2 wrapped in plastic wrap.
Add 1/3 c. chopped walnuts to first 1/2 of dough.
Continue to mix or knead first 1/2 of dough adding unbleached or bread flour as needed 1/4 cup at a time until dough is the right consistency then knead until dough is formed. Place in ceramic or glass bowl lightly coated with olive oil. Cover with plastic wrap and place in warm spot until double in bulk – about 1 hour.
Repeat with reserved 1/2 of dough omitting walnuts.
When dough has risen, remove from bowls deflate and allow it to rest about 10 minutes. Cut palm size pieces from dough and form into rolls. Place on a floured bakers couche or linen towel, cover with floured towels and allow to rise until double in bulk.
Preheat oven to 350 degrees fahrenheit with baking stones or tiles covering rack at mid level.
Remove roll dough from couche with a metal turning spatula – like what you would turn hamburgers with – and place in a row of 4, spaced apart along the edge of a long wide thin bread peel – a piece of wood 1/4 inch thick x 14 inches long by 5 inches wide. Transfer to baking tiles starting on the right side of the oven by tilting board and allowing them to slide off. Repeat until the oven is full. Spray interior of oven with water from a spray bottle beneath the rack and repeat this every 3 minutes for the first 9 minutes taking no more than 10 seconds each time.
Bake for 20 minutes.
Remove from oven to cooling rack.
Repeat until all the rolls are baked.
Store in plastic or paper bags until they're all gone. This bread remains fresh tasting for one week when stored in plastic or zip lock bags.
Enjoy!
~
I'll let you know tomorrow how they tasted.
O.P.W.